Learn Dutch > Dutch lessons and exercises > Dutch test #24697


Belgium- Bruxelles
Brussel is de hoofdstad van BelgiŽ en van de Europese Unie.
We bezoeken enkele toeristische attracties. Op de Grote markt vinden we het stadhuis met bovenop het beeld van de aartsengel MichaŽl. Aan de overkant is het Broodhuis of het Koningshuis. Daar is nu een museum. Als je het beeld van 't Serclaes streelt, kunt u een mooie toekomst verwachten. Ook 'Manneken Pis' is een beeldje waar vele duizenden toeristen naar gaan kijken.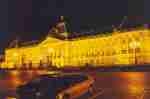 In het Koninklijk Paleis werkt koning Albert II. De koning en koningin Paola wonen in een ander paleis, de 'Belvedere'. Hun oudste zoon Prins Filip is gehuwd met Prinses Mathilde en is de troonopvolger. Recht tegenover het Koninklijk Paleis is het Parlement. Het ligt in de Wetstraat. Dichtbij ligt ook het Europees Parlement.
Eťn van de overblijfselen van de wereldtentoonstelling van 1958 is het Atomium. Het is 102 meter hoog. De negen metalen bollen stellen een ijzerkristal voor. In Mini-Europa worden de mooiste monumenten van Europa nagebootst. Er zijn ook heel wat parken. Er leven mensen uit de hele wereld in Brussel en u kunt er dus zeer veel talen horen spreken. Een derde van de inwoners zijn buitenlanders.
de hoofdstad (hoofdsteden)
de attractie (s)
de aartsengel (en)
de overkant
aan de overkant
de toekomst
de wereldtentoonstelling (en)
de Wetstraat
de Grote Markt
de wereld (en)
de inwoner (s) - de inwoonster (s)
de buitenlander (s) - de buitenlandse (n)
de bol (len)
de troonopvolger (s)
een derde
het Koningshuis of het Broodhuis
het stadhuis (stadhuizen)
het beeld (en)
het museum (musea)
het paleis (paleizen)
het Atomium
het overblijfsel (en)
het ijzerkristal
metalen
verwachten
na|bootsen
voor|stellen
bezoeken - bezocht - bezocht
strelen
MichaŽl
bovenop
recht tegenover
heel wat parken

Twitter Share
Dutch exercise "Belgium- Bruxelles" created by mariebru with The test builder. [More lessons & exercises from mariebru]
Click here to see the current stats of this Dutch test



Please log in to save your progress.
---
End of the free exercise to learn Dutch: Belgium- Bruxelles
A free Dutch exercise to learn Dutch.
Other Dutch exercises on the same topics : Geography, history, politics, literature... | Countries and nationalities | Towns | All our lessons and exercises