Learn Dutch > Dutch lessons and exercises > Dutch test #25173


Belgium - Anvers
Anvers

Antwerpen is een stad van handel, industrie, kunst en cultuur. Het is een wereldhaven aan de Schelde.
Haar bijnaam is 'Sinjorenstad'. Sinjoor komt af van het Spaanse senor. In de 16de eeuw 'De Gouden Eeuw' leidden de kooplieden een herenleven; ze waren zeer rijk.
De naam Antwerpen is afkomstig van een legende. De reus Druoon Antigoon woonde in de Antwerpse burcht 'Het Steen'. Hij hief tol op de schepen die er voorbijvoeren. Wie niet wilde betalen, werd een hand afgehakt. Maar de Romeinse veldheer Salvius Brabo versloeg de reus en hakte hem de hand af. Die hand wierp hij in de Schelde ('ant' = hand). Zijn standbeeld staat op de 'Grote Markt' voor het mooie stadhuis.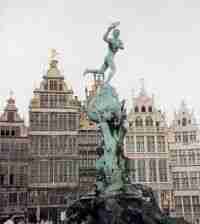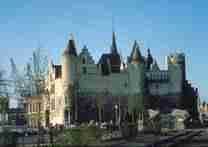 In 1969 werd de Kennedytunnel op de E3 (later E17) in gebruik genomen. De stad had veel te lijden van de V-bommen in 1944-45 maar toch zijn er 475 historische eenheden beschermd.
De Onze-Lieve-Vrouwetoren is al van ver te zien. De kathedraal is heel mooi gerestaureerd en je kan er o.a. het prachtige schilderij 'De Tenhemelopneming van Maria' van P.P. Rubens bewonderen.
Antwerpen is natuurlijk heel bekend om zijn wereldhaven. De oudste dokken : Bonapartedok (1811) en Willedok (1813) liggen vlak bij het centrum. Het Willemdok wordt nu gebruikt als jachthaven. Van het Bonapartedok wil men een Scheepvaartmuseum maken. De grote dokken voor het lossen en laden van zee- en containerschepen liggen op ongeveer 10 km stroomafwaarts (ten Noorden van Antwerpen). Nog altijd worden er nieuwe gegraven.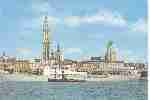 Ook de dierentuin lokt dagelijks vele bezoekers naar Antwerpen. De stad is verder beroemd om zijn diamanthandel. Het zijn niet alleen Joodse handelaars, ook Indische. De Joden verkopen niet alleen diamant, ook goud.
Natuurlijk zijn er nog talrijke andere bezienswaardigheden. Ontdek ze zelf door de stad eens te bezoeken.
de wereldstad
de stad (steden)
de Schelde
de handel (s)
de legende (n)
de koopman (kooplieden)
de reus (reuzen)
de tol (len)
de veldheer (heren)
de tunnel (s)
de wereldhaven
de bom (men)
de eenheid (heden)
de dierentuin
de bijnaam
de jachthaven
de scheepvaart
de diamanthandel
het Scheepvaartmuseum
het herenleven
het containerschip (schepen) *
het zeeschip (schepen) *
het standbeeld (en)
bekend om
beroemd om
arm / rijk
vlak bij
stroomafwaarts liggen
stroomopwaarts liggen
afkomstig van
historisch
heffen - hief - geheven
voorbijvaren - voer voorbij - voorbijgevaren
betalen
afhakken - hakte af - afgehakt
werpen - wierp - geworpen
lijden van - leed - geleden
beschermen - beschermde - beschermd
leiden
in gebruik nemen
verslaan - versloeg - verslagen
bewonderen
graven - groef - gegraven
lossen
lokken

Twitter Share
Dutch exercise "Belgium - Anvers" created by mariebru with The test builder
Click here to see the current stats of this Dutch test



Please log in to save your progress.
---
End of the free exercise to learn Dutch: Belgium - Anvers
A free Dutch exercise to learn Dutch.
Other Dutch exercises on the same topics : Geography, history, politics, literature... | Countries and nationalities | Towns | All our lessons and exercises