Learn Dutch > Dutch lessons and exercises > Dutch test #37045


Belgium - Malines
Mechelen.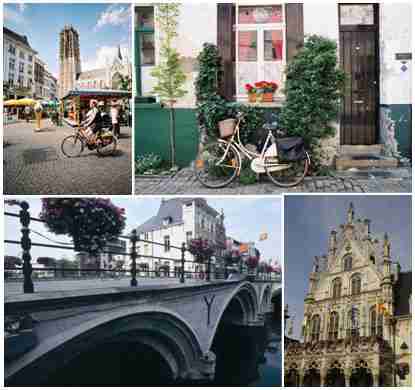 Wie Mechelen zegt, denkt meteen aan de Sint-Rombout, de kathedraal, maar de stad verbergt nog veel andere schoonheden en schilderachtige buurten.

Vroeger was de stad belangrijk. In de 15e en 16e eeuw was ze de hoofdstad van de Nederlanden(*). Philips de Schone (1478 – 1506) en Margaretha van Oostenrijk (1480 – 1530) woonden er. Haar standbeeld staat op de Grote Markt. Zij was de dochter van Keizer Maximiliaan en de tante van Karel de Vijfde. Haar paleis uit het jaar 1526 is het tegenwoordige Paleis van Justitie. Het behoorde later aan Kardinaal de Granvelle (1517 – 1586). Het is het oudste monument in renaissancestijl in de Nederlanden.
De Sint-Rombout, waarvan de toren 97 meter hoog is, beheerst de gehele stad. Het is een prachtig gebouw. In de toren hangen de 46 klokken van het beroemdste carillon ter wereld. De Vlamingen zeggen ook "beiaard" en de man, die het klokkenspel bespeelt, is de "beiaardier". Mechelen bezit ook een beiaardschool. Carillons of klokkenspelen vindt men haast alleen in België en Nederland. Het is een van de meest aantrekkelijke eigenaardigheden van de Nederlandse steden.
Dichtbij de Grote Markt is het Schepenhuis, het paleis van de Grote Raad, het Opperste Gerechtshof in de Nederlanden van 1474 tot en met 1618. In de Keizersstraat was vroeger het Keizershof, de residentie van Philips de Schone en van Karel de Vijfde (tot 1516).
Mechelen is een tamelijk stille stad, ofschoon er enige industrie is. Vroeger werd er spoorwegmateriaal gemaakt. Nu zijn er nog veel meubelwinkels en –fabrieken; in de omtrek worden jonge groenten gekweekt.
Men ontmoet veel priesters in de stad, want er is een groot seminarie et het is de zetel van de aartsbisschop. De eerste was Granvelle in 1560.
(*) De Nederlanden = Les Pays-Bas bourguignons étaient composés de 17 provinces comprenant la Belgique, les Pays-Bas actuels mais également le Nord de la France.
de keizer
de omtrek
de zetel
de aartsbisschop
de eigenaardigheid
het standbeeld
het gerechtshof
tegenwoordig
aantrekkelijk
opperst
tamelijk
verbergen – verborg – verborgen
behoren aan
beheersen
kweken

Twitter Share
Dutch exercise "Belgium - Malines" created by mariebru with The test builder. [More lessons & exercises from mariebru]
Click here to see the current stats of this Dutch test



Please log in to save your progress.
---
End of the free exercise to learn Dutch: Belgium - Malines
A free Dutch exercise to learn Dutch.
Other Dutch exercises on the same topics : Geography, history, politics, literature... | Countries and nationalities | Towns | All our lessons and exercises