Learn Dutch > Dutch lessons and exercises > Dutch test #55536


Ivo Van Damme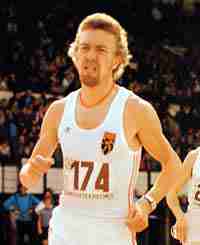 IVO VAN DAMME
Op 21 februari 1954 zag Ivo Van Damme het levenslicht in het Brusselse. Volgens zijn vader Kamiel, een rijkswachter van beroep, was Ivo als kind een 'koppige en dwarse doordrijver'.
Hij interesseert zich voor sport. Zijn aandacht en inzet ging eerst naar het voetbal. Tot op zijn zestiende voetbalde hij bij Racing White. Hij speelde als rechterspits, maar was volgens zijn vader geen supertalent: 'veel snelheid, maar geen techniek.'
Al heel snel bleek dat Van Damme op dit vlak wel bol stond van het talent. Hij koos voor atletiek in 1972; hij was toen al 18 jaar oud. Hij sloot zich aan bij Daring Club Leuven.
De grote doorbraak kwam er in 1973 op de Europese juniorenkampioenschappen. Van Damme finishte als vierde op de achthonderd meter in een nieuw Belgisch record: 1'48'16. Hij droeg toen een pet zoals zijn idool, de Amerikaan Dave Wottle.
Zo succesvol 1973 was, zo teleurstellend werd 1974. Voor de eerste en enige keer in zijn carrière moest Van Damme opgeven. De kranten gaven geen cent meer voor de carrière van Ivo Van Damme. Later bleek uit een bloedonderzoek dat Van Damme leed aan de ziekte van Pfeiffer(ook klierkoorts genoemd). Tweeënhalve maand bleef hij door deze kwaal buiten strijd.
Maar Van Damme bleef geloven in zijn kansen. Op de indoorkampioenschappen werd hij tweede.
Van Damme liep zijn meest opmerkelijke résultaten op de Olympische Spelen.
Nog voor de afreis naar Montréal verklaarde hij aan de pers: 'Wie mij klopt, zal het wereldrecord breken.' Uiteindelijk haalde Van Damme zilver op de 800 m (Belgisch record) en de 1500 m. Door zijn prestaties mocht hij in dat jaar de Trofee voor Sportverdienste en de Gouden Spike in ontvangst nemen en werd hij uitgeroepen tot Belgisch sportman van het jaar.
Het legendarische wereldrecord van Miel Puttemans op de 5000 m heeft Van Damme nooit kunnen verbreken. Het was zijn ambitie voor 1977, maar hij heeft nooit een echte kans gekregen. Ivo Van Damme verloor het leven bij een verkeersongeval op weg naar huis, komende van een trainingskamp in Zuid-Frankrijk. Een jaar later organiseerden een aantal sportjournalisten voor de eerste keer de Memorial Van Damme, als posthume hulde aan de jonge atleet.

Twitter Share
Dutch exercise "Ivo Van Damme" created by mariebru with The test builder. [More lessons & exercises from mariebru]
Click here to see the current stats of this Dutch test



Please log in to save your progress.
---
End of the free exercise to learn Dutch: Ivo Van Damme
A free Dutch exercise to learn Dutch.
Other Dutch exercises on the same topic : Geography, history, politics, literature... | All our lessons and exercises