Learn Dutch > Dutch lessons and exercises > Dutch test #63434


NEDERLAND (17)
NEDERLAND (17)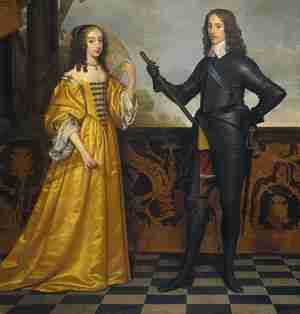 De Roemrijke Revolutie (1688)
Stadhouder Willem III, getrouwd met Mary Stuart, komt het protestantse Engeland te hulp met een leger om zijn katholieke schoonvader af te zetten. Hij wordt in 1689 tot koning van Engeland gekroond.
In 1677 trouwde Willem III met Mary Stuart, de oudste dochter van de hertog van York, en daarmee tevens opvolgster van de Engelse kroon. Willem III was een bekwaam politicus die door middel van bondgenootschappen het evenwicht in Europa wist te bewaren.Hij wilde de expansiedrift van Lodewijk XIV en zijn ideeŽn over het ware geloof beteugelen. In 1685 werd in Frankrijk het 'Edict van Nantes' herroepen, waarmee de hugenoten een eeuw vroeger godsdienstvrijheid hadden verkregen. Hierop vluchtten 400.000 goed opgeleide protestanten het land uit en vertrokken naar de Republiek, Engeland en de Duitse lutherse vorstendommen. Hierdoor kreeg de anti-Franse stemming een belangrijke impuls. De katholieke Jacobus II, de schoonvader van Willem III,werd koning van Engeland. Er volgden al snel pro-katholieke maatregelen en een verbond met Frankrijk. De Engelsen zochten contact met Willem en Mary met de dringende vraag snel in te grijpen. Met toestemming van de Staten-Generaal voer Willem in november 1688 met een groot leger naar Engeland om de wetten en vrijheden van Engeland te herstellen. Jacobus II vluchtte naar Frankrijk. Met de 'Roemrijke Omwenteling' (Glorious Revolution) werd in Engeland tevens de constitutionele monarchie ingesteld. In 1689 werden Willem en Mary door het parlement uitgeroepen tot koning en koningin van Engeland. Zo werd Willem III koning van Engeland en was hij tegelijkertijd stadhouder van de Republiek.
Willem III streefde steeds naar een groot verbond van landen tegen de Fransen. Dat lukte in hetzelfde jaar als zijn kroning tot koning van Engeland. De Oostenrijkse keizer, de Duitse staten en zelfs Spanje sloten zich aan bij de coalitie tegen de Fransen. Tussen de Republiek en Frankrijk was toen al de negenjarige oorlog uitgebroken, die weinig succes opleverde en veel geld kostte. De economie liep hierdoor grote schade op, waardoor de werkloosheid toenam. De toepassing van een reglement,voor een minder gunstige regeling voor begrafenisondernemers,leidde in Amsterdam tot een grote oproer(Aansprekersoproer) onder de bevolking, die de geldverslindende oorlogen beu was.
Complete

Twitter Share
Dutch exercise "NEDERLAND (17)" created by mariebru with The test builder. [More lessons & exercises from mariebru]
Click here to see the current stats of this Dutch test



Please log in to save your progress.
---
End of the free exercise to learn Dutch: NEDERLAND (17)
A free Dutch exercise to learn Dutch.
Other Dutch exercises on the same topics : Geography, history, politics, literature... | Countries and nationalities | All our lessons and exercises