Learn Dutch > Dutch lessons and exercises > Dutch test #64619


NEDERLAND (22)
NEDERLAND (22)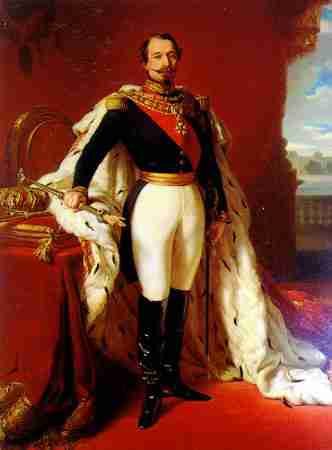 Napoleontische tijdperk (1806 - 1810)
Lodewijk Napoleon, broer van Napoleon, wordt koning van het koninkrijk Holland. Hij probeert een zelfstandige koers te volgen. Napoleon annexeert het koninkrijk Holland in 1810.
In 1804 had Napoleon Bonaparte alle macht in Frankrijk naar zich toe getrokken en kroonde hij zichzelf tot keizer. Met de Nederlandse gezant Rutger Jan Schimmelpenninck onderhandelde hij in Parijs over de invoering van een eenhoofdig bewind in de Republiek. Door de Nederlandse kiezers werd dit goedgekeurd en werd Schimmelpenninck als raadpensionaris aangesteld. Hiermee verstevigde Napoleon zijn greep op de Republiek, die hem goed kon helpen in zijn strijd tegen Engeland. In de korte tijd dat Schimmelpenninck raadpensionaris was, heeft hij grote hervormingen doorgevoerd. Hij zorgde voor de centralisatie van de overheidsfinanciŽn en de belastingen, organiseerde de posterijen, er kwam een wettelijke regeling voor de uitoefening van de geneeskunde, de Nederlandse spelling werd geregeld en er kwam een onderwijswet.
Napoleon wilde met zijn 'Continentaal Stelsel' Engeland vernietigen. Dit handelsembargo verbood alle handel met Engeland over zee van Frankrijks bondgenoten en de neutrale landen. Engeland reageerde hierop met blokkades van alle Europese havens, waardoor er aan de Nederlandse kust een omvangrijke smokkelhandel op gang kwam. Dit noodzaakte Napoleon om zijn greep op de Republiek nog meer te verstevigen. Hij dwong Schimmelpenninck tot aftreden en benoemde in 1806 zijn broer Lodewijk Napoleon (1778-1846) tot koning van Nederland. Hierdoor werd de Republiek het koninkrijk Holland.
Lodewijk Napoleon voerde een onafhankelijke koers van zijn broer. Hij probeerde de mentaliteit van zijn onderdanen te begrijpen en deed veel om hun belangen te behartigen. Zo stond hij oogluikend de smokkelhandel aan de Nederlandse kust met Engeland toe.
Ook werd door hem het Koninklijk Instituut van Wetenschappen, Letteren en Schone Kunsten opgericht en was hij de grondlegger van het Rijksmuseum in Amsterdam.
Door de geringe medewerking van zijn broer om de handel met Engeland te stoppen, lijfde Napoleon in 1810 zuidelijk Nederland in bij Frankrijk. Enkele maanden later deed Lodewijk Napoleon afstand van de regering, waarop het gehele koninkrijk Holland deel ging uitmaken van Frankrijk. Ook de Franse wetten werden ingevoerd, zoals de instelling van de burgerlijke stand en de dienstplicht. Toen Napoleon in 1812 zijn veldtocht naar Rusland begon, bevonden zich in het Franse leger 15.000 Nederlandse dienstplichtigen , waarvan er slechts enkele honderden terugkeerden.
In 1813 werd Napoleon verslagen in de 'Volkerenslag' bij Leipzig. De Franse troepen begonnen zich uit Nederland terug te trekken. In Amsterdam braken relletjes uit waarbij 'Oranje boven' werd geroepen. In een proclamatie namen de oranjegezinde regenten Van Hogendorp en de graaf Van der Duyn van Maasdam samen de macht over tot de komst van de erfprins Willem Frederik, zoon van Willem V. Op 30 november 1813 kwam Willem Frederik in Scheveningen aan land. Hij aanvaardde de soevereiniteit en beloofde de grondwet te respecteren. In 1815 riep Willem Frederik, die zich inmiddels Willem I noemde, zich uit tot koning der Nederlanden.

Twitter Share
Dutch exercise "NEDERLAND (22)" created by mariebru with The test builder. [More lessons & exercises from mariebru]
Click here to see the current stats of this Dutch test



Please log in to save your progress.
---
End of the free exercise to learn Dutch: NEDERLAND (22)
A free Dutch exercise to learn Dutch.
Other Dutch exercises on the same topics : Geography, history, politics, literature... | Countries and nationalities | All our lessons and exercises