Learn Dutch > Dutch lessons and exercises > Dutch test #77735


De roos en het zwaard - Asterix
De roos en het zwaard, een feministisch verhaal ?
In 1991 verscheen De roos en het zwaard, het vijfde Asterix-album dat Albert Uderzo in zijn eentje gerealiseerd heeft na de dood in 1979 van scenarist René Goscinny.
Het is een boek met een voor de Romeinse tijd erg modern verhaal, waarin voor het eerst in de Asterix-geschiedenis vrouwen een hoofdrol spelen, zowel aan de Gallische als aan de Romeinse kant.
Behalve in het verhaal 'Asterix en Cleopatra' speelde de vrouw nooit een eersterangsrol in de Asterix-albums. De vrouwen waren natuurlijk wel aanwezig, maar ze maakten meestal slechts deel uit van het decor. Slechts eenmaal in de reeks was een vrouw (Walhala uit 'Asterix en het eerste legioen') zeer verleidelijk, toch kreeg ze van Uderzo en Goscinyy geen hoofdrol.
In De roos en het zwaard echter trekken de Gallische vrouwen de broek aan en wordt het verhaal ook moderner inzake man-vrouw rolpatronen. De auteur past zich aan de veranderde zeden aan en de strip wordt dus minder preuts. De lezers hoeven niet geschandaliseerd te zijn als Asterix van een blondje een tikje tegen de billen krijgt, en wat later ook een dikke zoen en zelfs een aanzoek krijgt.
Van dit avontuur werden er in Europa in minder dan één jaar zeven honderd duizend exemplaren verkocht; de hele Asterixreeks is trouwens een ongelooflijk succes : er werden tot nu toe maar eventjes 325 miljoen exemplaren verkocht, in meer dan 100 talen; zelfs de Chinezen werkten aan het commerciële succes van deze onoverwinnelijke Galliër.
Woordenschat
de eersterangsrol
de hoofdrol
zowel aan de kant... als aan de kant
van het decor uitmaken
de broek aantrekken
onoverwinnelijk
verleidelijk
zich aanpassen aan de veranderde zeden
de gewoonten, de zeden
een tikje tegen de billen krijgen
de zoen
een aanzoek krijgen
ongelooflijk
de Galliër
la Gaule
gaulois (adjectif)
het zwaard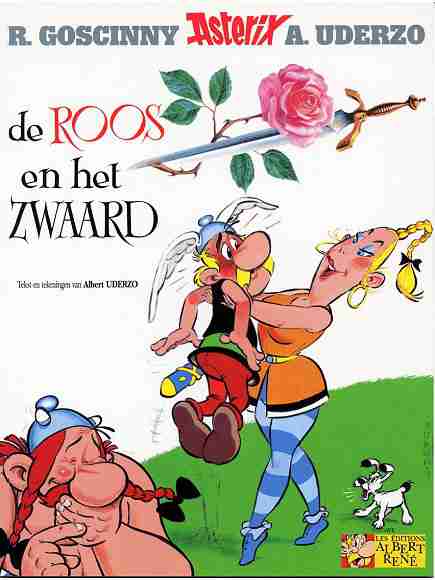 Twitter Share
Dutch exercise "De roos en het zwaard - Asterix" created by mariebru with The test builder. [More lessons & exercises from mariebru]
Click here to see the current stats of this Dutch test



Please log in to save your progress.
---
End of the free exercise to learn Dutch: De roos en het zwaard - Asterix
A free Dutch exercise to learn Dutch.
Other Dutch exercises on the same topics : Geography, history, politics, literature... | Literature | All our lessons and exercises