Learn Dutch > Dutch lessons and exercises > Dutch test #83089


Belgium : History (3)
BELGIQUE - History - 3
De Middeleeuwen - Middle Ages
(900 - 1300)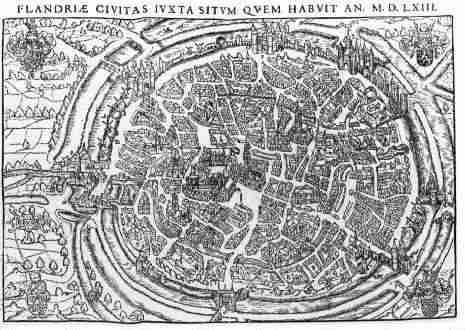 Brugge - Bruges - 1100
Door de ineenstorting van het vorstelijke gezag, kwam de macht in de handen van de lokale graven en hertogen. Zij voerden vele oorlogjes om hun stukje grond te kunnen vergroten. Op het platteland waren zij en hun vazallen heer en meester. De boeren waren van hen afhankelijk en moesten hen onderhouden.
Vanaf de IXde eeuw ontstonden handelsroutes langs de rivieren. De handelsposten ontwikkelden zich langzamerhand tot steden. Na verloop van tijd werd de handel georganiseerd via jaarmarkten. Er kwamen transportroutes over land, waarlangs de goederen tussen de steden werden vervoerd.
De steden konden politieke autonomie afdwingen van de lokale heren. In die steden ontstond er een nieuwe klasse van handelaars en later van ambachtslieden. De handelaars domineerden het stadsbestuur, maar de handwerkslieden bedreigden meer en meer hun positie. De Guldensporenslag in 1302 bracht de ambachten mee in het stadsbestuur.
Het graafschap Vlaanderen kende de sterkste economische ontwikkeling. Het werd één van de dichtst bevolkte regio's van West-Europa. De textielindustrie situeerde zich aanvankelijk in de grotere steden, maar verschoof tegen het einde van deze periode naar de kleinere steden en het platteland. Haar voornaamste product was het Vlaamse laken, dat via de Noord-Duitse Hanze naar de Oostzee werd verscheept.
Brugge was dé uitvoerhaven bij uitstek. Wanneer de kustvaart aan belang begon te winnen, werd Brugge de overslaghaven tussen de gebieden rond de Middellandse Zee en de Oostzee.
Ook het Maasgebied kende een sterke stedelijke groei dankzij zijn belangrijke metaalindustrie.
From : Belgium.be

Twitter Share
Dutch exercise "Belgium : History (3)" created by mariebru with The test builder. [More lessons & exercises from mariebru]
Click here to see the current stats of this Dutch test



Please log in to save your progress.
---
End of the free exercise to learn Dutch: Belgium : History (3)
A free Dutch exercise to learn Dutch.
Other Dutch exercises on the same topics : Geography, history, politics, literature... | Countries and nationalities | All our lessons and exercises