Learn Dutch > Dutch lessons and exercises > Dutch test #83623


Belgium (4)
Late Middeleeuwen - Middle Ages(1300 - 1500)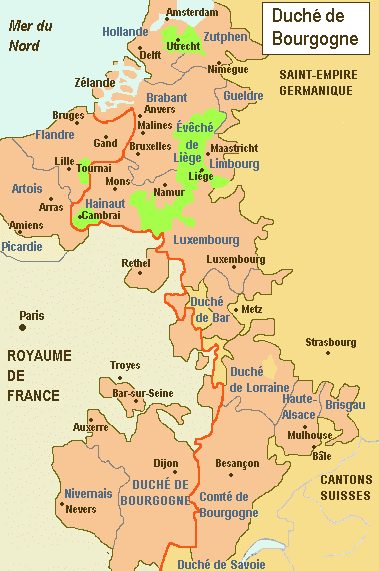 De spanningen tussen handelaars en ambachtslieden in de steden enerzijds en tussen de graaf van Vlaanderen en de koning van Frankrijk anderzijds leidden tot de Guldensporenslag in 1302. Die werd gewonnen door de ambachten, die in de verschillende Vlaamse steden aan de macht kwamen. In Brabant daarentegen bleef de stedelijke macht in handen van de toplaag. In het prinsbisdom Luik ten slotte werd het gezag van de prins-bisschop fel ingeperkt ten voordele van de steden, die eveneens beheerst werden door de ambachten.
In de XVde eeuw kwamen alle gewesten, behalve het prinsbisdom Luik, onder het gezag van de Bourgondische hertogen. Zij perkten de macht van de grote Vlaamse steden in. De hertogen creŽerden overkoepelende instellingen voor bestuur en rechtspraak, maar de gewesten bleven voor een groot deel autonoom.
De textielindustrie van de steden concentreerde zich voortaan op luxe-producten. Het goedkopere laken en linnen werd geproduceerd in de kleinere steden en op het platteland. De export van het laken geraakte meer en meer in buitenlandse handen. Brugge werd weliswaar een overslaghaven tussen de Oostzee en de Middellandse Zee, maar de handel werd beheerst door buitenlanders. Door de verzanding van het Zwin, maar ook om politieke en economische redenen nam Antwerpen in de XVde eeuw de rol van Brugge over als voornaamste doorvoerhaven in West-Europa.
From : Belgium.be

Twitter Share
Dutch exercise "Belgium (4)" created by mariebru with The test builder. [More lessons & exercises from mariebru]
Click here to see the current stats of this Dutch test



Please log in to save your progress.
---
End of the free exercise to learn Dutch: Belgium (4)
A free Dutch exercise to learn Dutch.
Other Dutch exercises on the same topics : Geography, history, politics, literature... | Countries and nationalities | All our lessons and exercises