Learn Dutch > Dutch lessons and exercises > Dutch test #84604


Belgium: history (9)
BELGIQUE - History - 9
De Belgische Revolutie
Het Voorlopig Bewind en het Nationaal Congres -

(1830 - 1831)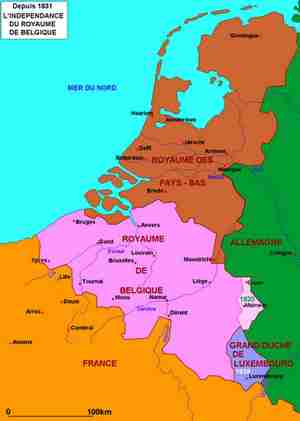 Toen het Nederlandse leger tussen 23 en 27 september 1830 Brussel bezet hield, vormde er zich een revolutionair comité, dat zich na de verdrijving van het Nederlandse leger, omvormde tot Voorlopig Bewind.
Op 4 oktober 1830 verklaarde het, dat de Belgische provincies vanaf dat moment een eigen staat vormden. Het benoemde een commissie voor de opstelling van een nieuwe grondwet. Op 10 oktober schreef het verkiezingen uit voor een Nationaal Congres. Het Congres werd verkozen via rechtstreekse verkiezing, maar door een cijnskiesstelsel waren slechts 45 000 Belgische mannen kiesgerechtigd. De verkiezing vond plaats op 3 november, slechts 30 000 kiezers kwamen opdagen. Het Congres kwam voor het eerst bijeen op 10 november. Het bestond uit 200 leden, vooral leden uit de burgerij. Tot op dat moment had het Voorlopig Bewind alle macht in handen. Het regeerde via decreten. Het kondigde enkele vrijheden af, zoals de vrijheid van vereniging, pers, godsdienst en onderwijs.
Het Nationaal Congres had als eerste opdracht het opstellen en goedkeuren van een grondwet. De nieuwe constitutie werd aangenomen op 7 februari 1831. Er werd die dag ook een regent benoemd. Het Voorlopig Bewind, dat tot op dat moment de uitvoerende macht had behouden, werd ontbonden. Het Nationaal Congres bleef als wetgevend orgaan voortbestaan tot de verkiezing van het eerste parlement op 8 september 1831.
From : Belgium.be

Twitter Share
Dutch exercise "Belgium: history (9)" created by mariebru with The test builder. [More lessons & exercises from mariebru]
Click here to see the current stats of this Dutch test



Please log in to save your progress.
---
End of the free exercise to learn Dutch: Belgium: history (9)
A free Dutch exercise to learn Dutch.
Other Dutch exercises on the same topics : Geography, history, politics, literature... | Countries and nationalities | All our lessons and exercises