Learn Dutch > Dutch lessons and exercises > Dutch test #96837


Business life (27): secretary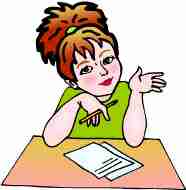 Hilda werkt dus op het secretariaat-generaal van de firma Van de Poort. Daar komen alle brieven en publiciteit toe en Hilda moet ze verdelen tussen de verschillende diensten.
Ze moet alle brieven vlug lezen maar soms weet ze niet wat ze er mee moet doen. Dit is het geval met deze :
Geachte Heren en Mevrouwen,
Weet u wat een jobclub is ? Het is een plaats waar mensen samen kunnen komen om samen werk te maken van het zoeken naar werk.
Ons doel is dat ieder lid de best mogelijke job vindt binnen de kortst mogelijke tijd.
Elk lid start met een sollicitatietraining van twee weken (4 halve dagen per week). Gedurende die twee weken werkt hij in een groepje van 8 tot 12 personen, onder leiding van een consulent. Tijdens deze training wordt aandacht besteed aan verschillende sollicitatietechnieken, maar ook aan hoe hij zijn jobs kan opsporen. Bovendien krijgt hij de kans zijn sollicitatie-ervaringen uit te wisselen met andere jobclubleden.
Na de sollicitatietraining kan het echte werk beginnen. In onze sollicitatieruimte vindt hij een aantal middelen om gratis te solliciteren: bedrijfslijsten, vakliteratuur, kranten, p.c.'s, kopieerapparaat, telefoon, postzegels...
Iedereen kan lid blijven tot hij zijn werk gevonden heeft.
Al wie werkzoekend is mag zich inschrijven bij de jobclub. Vooral mensen die het mœilijk hebben om het solliciteren in hun eentje vol te houden vinden hier steun bij andere werkzoekenden.
Hoewel de jobclubs zich in de eerste plaats richten naar niet-werkende werkzoekenden, kunnen ook werkzoekenden met een job er terecht. De enige voorwaarde is dat zij aanwezig kunnen zijn tijdens de trainingen en geplande sollicitatie-acties.
Bij het plaatsingskantoor van de RVA is het mogelijk meer info te vinden.
Om zich in te schrijven bij een jobclub, is het noodzakelijk contact op te nemen met de verantwoordelijke consulent van de dichtstbijzijnde jobclub. Hij kan informeren over de juiste startdatum van de training en de verdere organisatie.
Vul in.

Twitter Share
Dutch exercise "Business life (27): secretary" created by mariebru with The test builder. [More lessons & exercises from mariebru]
Click here to see the current stats of this Dutch test



Please log in to save your progress.
---
End of the free exercise to learn Dutch: Business life (27): secretary
A free Dutch exercise to learn Dutch.
Other Dutch exercises on the same topic : Business | All our lessons and exercises